Creating a PDF
For each test run you can easily create a pdf report which will contain all the relevant information for the developer to fix an issue.
Example:
Creating a Jira issue
Before publishing to Jira it's necessary to create a connector:
Click on "Settings" in the main menu and click the + button next to "Connectors". Then enter all the information needed for connecting to Jira:
Hit "Connect to Jira" and you are ready to go.
After the test run, repeato will have all the interesting meta data ready for your report:
App version, install and update time, device model and Android version.
Just click the report button in the header of your test:
For each of the executed test steps you can select a screenshot which get's attached to the Jira issue: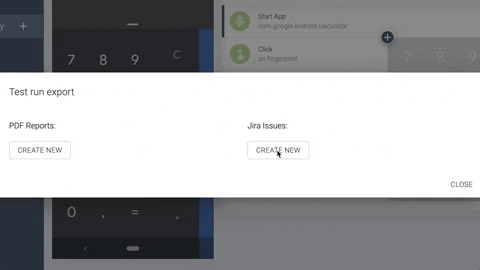 The left column of screenshots shows the ones taken during recording of the test, the right column shows the screenshots taken during test execution.